Shiyan People's Hospital, affiliated hospital of Hubei University of Medicine, was founded in 1982. It is a national Grade three Class A integrated hospital with a combination of medicine, scientific research, teaching, first aid, prevention, health care and so on. It has the honors as International Baby Friendly Hospital, the International rescue network hospital, national advanced health group, the first national Hundred best demonstration Hospital, national advanced unit for the construction of the hospital culture, traditional Chinese medicine demonstration unit of the national general hospitals, Grade three Class A demonstration hospital in Hubei Province, Grade three excellent hospital of Hubei Province, Hubei civilized unit and Hubei Advanced Basic Party organizations. As early as July 2004 it had passed through certification of ISO900 quality management system and ISO14001 environmental management system. The medical impact has been on almost 30 million people in the neighboring areas of Hubei, Henan, Shaanxi and Chongqing. Its comprehensive medical strength is ranking at the top of the municipal level hospitals and is one of the top 50 Municipal level Grade three hospitals.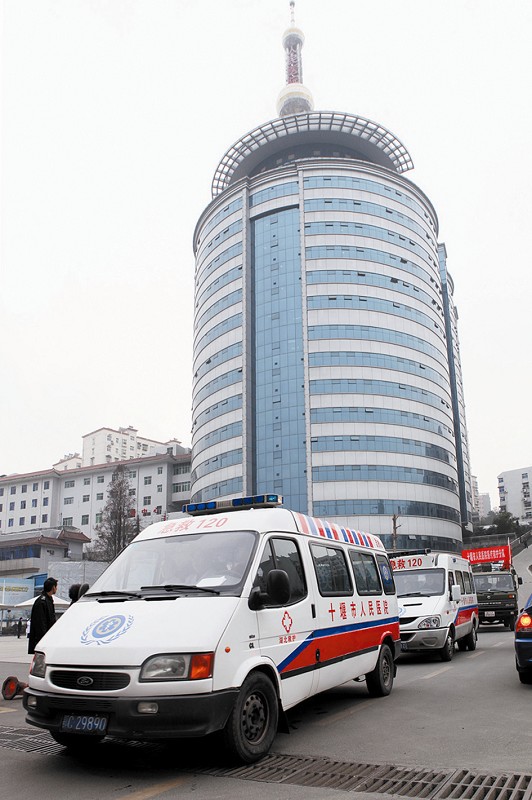 The Hospital covers an area of 200 mu, with 1800 beds. It has 59 departments with more than 1.1 million patients having been treated annually, and nearly 70,000 patients discharged from the hospital. The Hospital boasts of total assets of nearly 1.5 billion Yuan including a variety of complete range of endoscopic and other sophisticated medical equipment such as 3.0T superconducting MRI, 64-row 128-slice CT, 1250 Large Digital X-ray machines, surgical navigation system, high-energy linear accelerator, detection and early diagnosis of tumor hyperthermia system, three-dimensional ultrasound and ultrasound endoscopy. The equipment reaches a total value of 400 million Yuan. It has a 28-story building, the highest medical health building in Shiyan --- Medical Technology and Internal Medicine Building, with an area of 46,000 square meters. By 2014 when the Medical District has been enlarged as scheduled, the medical area will reach 160,000 square meters or more. It will be the largest and most environmentally beautiful medical center with optimized process and highest intelligence.
The Hospital has more than 2,600 employees, including more than 1,000 people senior and intermediate titles of technical personnel, more than 400 doctors and masters. It has the first medical doctor of the city, postdoctoral scholar back from the America, "Chutian Scholar" Candidate of "Hundred Talents Program" Professor Wang Jianing and the State Council special allowance expert, member of national human assisted reproductive technology experts, "Father of Hubei IVF" Professor Zhang Changjun, the famous gastroenterologist Professor Xu Shaoyong, orthopedics expert Professor Zhang Gongli, Cardiologist Professor Zhang Hongkao, hepatobiliary surgical expert Professor Chen Xianxiang, neurosurgery expert Ji Hansheng, oncologist Professor Chen Ping, emergency expert Professor Fu Shouzhi, dental specialist Professor Hu Tuqiang, and Professor Tan Yan, the first woman doctor who has ever obtained the national Natural Science Foundation, and Professor Diao Honglu, a famous research expert on endometrial receptivity.
The Hospital has 24 provincial and municipal key specialties such as cardiovascular medicine, reproductive medicine, emergency department, dentistry, diabetes treated with TCM, oncology, medical cosmetology, clinical nursing. It also has technologies well-known in the country such as human assisted reproductive technology, surgical treatment of epilepsy and iodine 131 treatment of hyperthyroidism. The hospital is also known for its cardiovascular interventional therapy, series of endoscopic techniques, various types of acute treatment of critically ill patients, surgical navigation guided minimally invasive surgery, neurosurgery, scoliosis correction surgery, digestive endoscopic techniques, coronary artery bypass, and a large number of microscopic root canal treatment technologies, which are either leading in the region or advanced in the country. What is still worth mentioning is the Center for Reproductive Medicine, which is the country's first municipal hospital approved by the State Planning Commission to conduct human assisted reproductive technology, and for this reason, the hospital has been elected one of the first card s of the city of Shiyan.