Taihe Hospital, founded in 1965, is an affiliated hospital with Hubei University of Medicine. Taihe Hospital is a national Grade three Class A integrated hospital with a diverse group of services including; medicine, teaching, research, prevention, care, first aid, rehabilitation, training and more. Taihe Hospital is also an International Baby Friendly Hospital, an international emergency rescue network hospital and a national clinical drug trial base. The Hospital is still the first general practitioner training base as funded by national ministry of finance and a regional Municipal Medical Center in the Midwest region of China. Taihe Hospital has earned the "National Civilized Unit"award three times, the "National May 1 Advanced Unit Award", "National Hundred Best Model Hospital", "Advanced Unit in the National Hospital Management Year", "National Hospital of Reform and Innovation"and the "Card of Shiyan". Taihe Hospital shoulders the difficult task of diagnosis and treatment of critical and difficult diseases among the 26,000,000 people in over forty counties in and around Shiyan.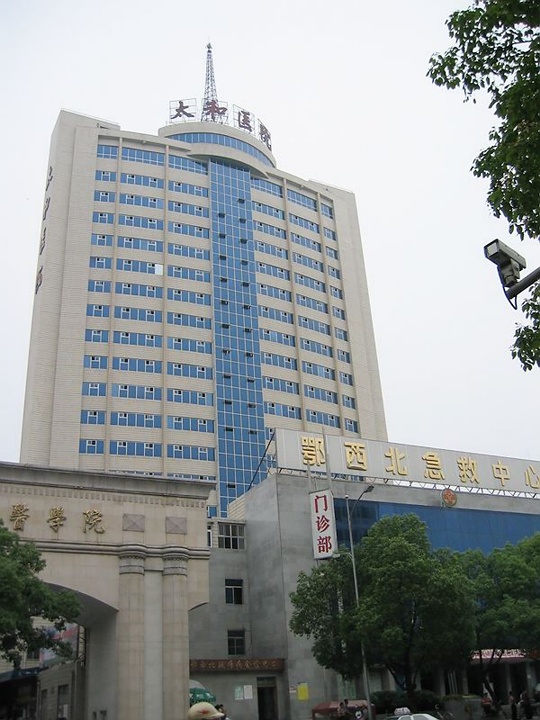 Taihe hospital covers an area of over 200 mu, and has a construction area of 300,000 square meters. The hospital has 2900 prepared beds and assets that total at nearly 1.4 billion Yuan. Taihe Hospital has more than 3,500 employees, of whom 520 are holders of senior professional and technical titles, over 500 have postgraduate degrees and seven are the State Council special allowance experts.
Taihe Hospital has a wide range of disciplines, over 56 clinical departments and, 15 medical technology departments. Among Taihe Hospital's various departments acupuncture and rehabilitation are both national major clinical construction specialties and key disciplines in Traditional Chinese Medicine. Gastroenterology, neurology, orthopedic surgery, obstetrics and gynecology, pediatrics, ophthalmology, dermatology, ENT, infectious diseases, anesthesiology, radiology, laboratory science, pharmacy respiratory medicine, pathology, phlebotomy, neurosurgery, clinical nursing and rehabilitation are the 19 forefront provincial specialties in Hubei Province. Internal medicine, surgery, and anesthesiology are the three foremost provincial disciplines. Taihe Hospital also has more than 10 research laboratories and six research institutes, of which the Institute of Life Sciences and the research laboratory for human embryonic stem cells have been given the title Hubei Provincial Major Laboratory by the Hubei Provincial Health Department, Provincial Department of Science and Technology and Provincial Education Commission. The clinical research center of cord blood stem cells has also passed through the provincial assessment.
Over the years Taihe Hospital has conducted the ten technologies of cell therapy, limb replantation, interventional radiology, trauma healing, rehabilitation medicine, cancer prevention and control, surgical endoscopy, digestive endoscopy, minimally invasive surgery and, bone marrow transplantation all of which have reached an advanced level within the country. In fact, Taihe Hospital has become a diagnostic and therapeutic center for stubborn or severe diseases of all types, even in the neighboring areas among Hubei Province, Henan Province, Shaanxi Province and the City of Chongqing.
Taihe Hospital attaches great importance to technological innovation, and actively guides the transformation of scientific research to clinical application. So far, the hospital has already had more than 200 scientific research projects and 120 achievements in research that have been awarded prizes for scientific and technological progress by the Ministry of Education, Ministry of Health and the provincial and municipal governments. Taihe Hospital has participated in nine National Natural Science Foundation Projects, and has earned more awards than any of their counterparts of same level. More than 5,000 papers have been published by Taihe Hospital, of which nearly one hundred are SCI papers and, also nearly one hundred monographs have come out. Taihe Hospital is one of the executive directors at the Provincial Medical Association and, is one of top Hubei hospitals for health education demonstration and doctor-patient communication.
As the affiliated hospital with Hubei University of Medicine, Taihe Hospital shoulders the responsibilities of teaching undergraduates and college students at the First Clinical College, College of Nursing, College of Pharmacy and School of Biomedical Engineering at HUM. Since its founding, Taihe has trained more than 10,000 medical talents. It is also the postgraduate training base for Tongji Medical College, Huazhong University of Science and Technology, the Medical College of Wuhan University, Hubei University of Chinese Medicine and Guiyang Medical University. Taihe Hospital now has over sixty doctors and master tutors. Taihe has had joint recruitment for postgraduates in cardiology, gastroenterology, neurosurgery, pediatrics and anesthesiology, since 1995 hundreds have graduated from their programs.