Suizhou Hospital Affiliated with Hubei University of Medicine is located in the hometown of Shennong, the legendary early emperor of Yandi. It is also the home for Bianzhong (the chime bells), the ancient music instrument. The Hospital is situated in towering Dahong Mountain and on the bank of gently flowing Yun River. In 1904, the British couple the Lis established pharmacy and clinic in Fuyintang of the county; In 1928, Puai Hospital (Universal Love) of Suixian County was built on the foundation of Fuyintang; In October 1949, Suixian County People's Government Hospital was founded on the basis of the former hospital; In February 1960 it was renamed Suixian County People's Hospital; In 1984, with the merging of Suizhou county and city it was renamed Suizhou No. 1 People's Hospital; In 2000 with the establishment of the city of Suizhou, it got the name of Suizhou Central Hospital; In October 2011 it was officially approved as one of Suizhou municipal level units.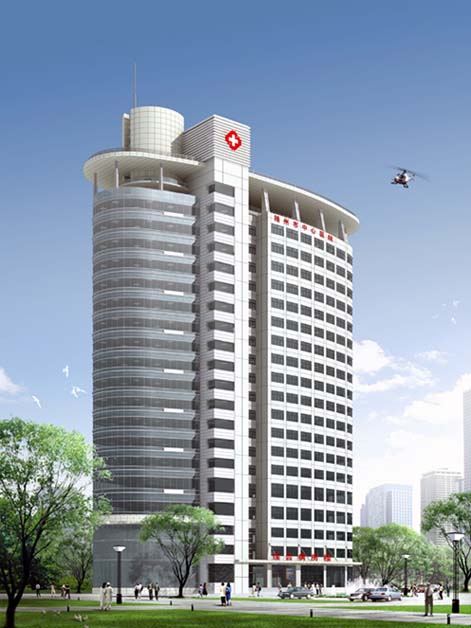 Since the reform and opening up, especially with the establishment of city of Suizhou, the Hospital has taken on a healthy and sustainable development track, having developed into one of a national Grade three Class A integrated hospital with a combination of medicine, teaching, research, first aid, prevention and health care. It is also an International Baby Friendly Hospital, an International Emergency Rescue Network Hospital and National Model Trusty Hospital. Moreover, it is one of the affiliated hospitals of Hubei University of Medicine, the Fifth Clinical College. In the meantime, it is the teaching and research base for Tongji Medical College Huazhong University of Science and Technology, Medical College of Wuhan University and Hubei University of Chinese Traditional Medicine. It is the sister hospital with the Italian hospital --- San Filippo Neri Hospital in Rome.
The Hospital covers an area of 72,000 square meters, with its construction area of 120,000 square meters, green area of 36%, and fixed assets up to 400 million Yuan. It is in charge of an emergency rescue center, Suizhou Infectious Diseases Hospital and Suizhou Psychiatric Hospital. It has Jiliang District branch and five community health service institutions. The Hospital has 1200 open beds, 29 administrative and logistics departments, 40 clinical departments, 52 professional groups, eight medical technology departments, 25 first level medical subjects and 33 second level medical subjects with an annual outpatient and emergency patients of nearly one million people, discharged patients of 42,000 patients and annual revenue of 500 million Yuan.
The Hospital has a total of 1,465 employees, of whom 1,100 are health technicians, 225 with senior technical titles, 470 intermediate technical titles, and 205 Ph.D. or postgraduates. They have been awarded various honorable titles: three National Advanced Worker awarded by the Ministry of Health, two Hubei Province Model Worker, and two Hubei May 1st Labor Medal, three Hubei young and mid-aged experts with outstanding contributions, two enjoying special government allowances by the State Council, five the provincial government special allowances, and eight Suizhou special government allowances .
The Hospital is equipped with advanced equipment of reasonable configuration. It has gamma knife, linear accelerator, 1.5T MRI, 64-slice spiral CT, direct digital X-ray machine (DR), digital subtraction angiography (DSA), four-dimensional color ultrasound, excimer laser system, laparoscopy, arthroscopy and other advanced diagnostic equipment such as ultrasound knife, with a total worth of instrument of 200 million Yuan .
The Hospital attaches great importance to the specialty construction. The transfusion department has been granted "Provincial Key Clinical Specialty". Cardiology and nephrology of Traditional Chinese Medicine have been assessed as "Provincial Key Clinical Construction Specialty". Nineteen departments have been developed into the municipal clinical key specialties such as cardiovascular surgery, neurology, general surgery, ENT, ophthalmology, obstetrics and gynecology, orthopedics, urology, gastroenterology, hematology, rehabilitation medicine, infectious diseases, pediatrics, laboratory science and ultrasound imaging department. Cardiothoracic Surgery, Interventional Medicine, hepatobiliary surgery, gastrointestinal surgery, colorectal anal surgery, neurosurgery, respiratory medicine , oncology have become prominent features of the Hospital. The complicated technologies and surgeries such as coronary artery bypass surgery, heart valve replacement, percutaneous transluminal coronary angioplasty plus endovascular stent, interventional treatment of cerebral aneurysms, aortic dissecting aneurysm and stent implantation and cardiac intervention have been practiced as routine clinical means of treatment.
The Hospital has always adhered to the development strategy known as "science and technology promoting hospital development", focusing on the development and application of new technologies. In the past five years, more than 80 scientific research projects have been conducted, including one national research project and 6 provincial research projects. One project have won the honor of Science and Technology Progress Award by the Ministry of Health, two provincial science and technology progress awards, three the provincial Technology Progress Award by the health department, 78 municipal Science and Technology progress Award. More than one thousand papers or translated articles have been published in the national core medical journals, along with a series of medical and management works being published with a total of over 30 in number.